With increased constraints on available funds and so many non-profit organisations needing funding, funders need assurance that their money is going to organisations that have a clear idea of who they are, what they do and how they will achieve their plans, organisations with a focused strategic plan.
Do you find that the strategic plan, theory of change or project design documents submitted with funding applications are woefully inadequate, unclear and unfocused? Do your partner organisations need improved strategic thinking and detailed planning?
Are you concerned that your partners are too heavily dependent on your grant income, reducing their sustainability in the long run? What happens when you no longer fund that organisation or thematic area? Have you considered supporting the establishment of income generating businesses within your partner organisations to increase unrestricted funding for operational costs and strategic initiatives?
At EM Solutions we engage with your partner's current plans and thinking, challenge their assumptions, unlock their creativity and clarify their strategy to ensure they have a comprehensive understanding of their theory of change, project implementation strategy, income generation strategy and organisational structure.
Our clients are international funding mechanisms who support small to medium size non-profit organisations with annual budgets of between $ 300 000 – $ 2 500 000. Typically, our clients operate in the following thematic area:
Social economic development

Capacity development

Organisational development

An area associated with one of our off-the-shelf business concepts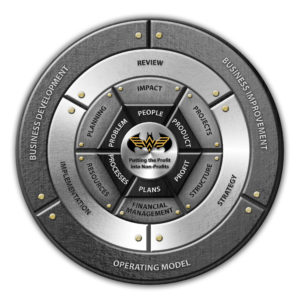 Our services include:
Facilitating strategic planning processes with partner organisations

Providing input to partner organisations existing specific strategies (for example: marketing strategy, fundraising strategy, financial management strategy, resource review, project design, amongst others)

Income generating business concept and strategy design for partner organisations, including implementation support and ongoing accompaniment.

Licencing socially focused Business-in-a-box concepts to fast-track business implementation in partner organisations.
The following range of business-in-a-box concepts are available:
Agri-Ambassadors

Gym Corners

Launch Academy