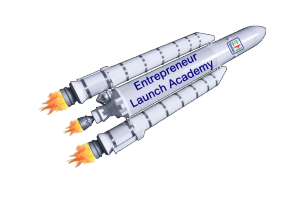 Entrepreneur Launch Academy
Get Ready to Launch Your Business Idea
The Entrepreneur Launch Academy offers a comprehensive programme taking each participant from an initial idea through the business development cycle to a ready-to-launch stage. The programme is video-based all contained within a 112-page workbook offering video links, session notes and workspaces to record your own business ideas and plans.
The Entrepreneur Launch Academy is the perfect tool for community development and upliftment or as a complementary programme for skills-based education that could accompany an entrepreneurial offering.
The programme offers:
Comprehensive Workbook
13 Section
45 Lessons
Video link
Lesson notes
Templates and workspace for you to complete
The full programme is offered as an off-the-shelf option or as a licenced white-labelled option for corporates or brands wanting to make an impact in targeted communities.