OPERATING MODEL DEFINITION & IMPROVEMENT
A non-profit organisation's operating model (similar to a business model) is described as the structure and focus that an organisation, consciously or unconsciously, adopts to achieve it's stated objective. An organisation's operating model includes the following components: Impact Model, Revenue Mix, Infrastructure and Capital Structure.  
An organisation's operating model must evolve over time to consider changes in the internal structure and strategy of the organisation, as well as external factors such as the political and economic environments.  
Typically operating models can be classified in the following broad categories: 
Direct service delivery / Implementing organisations 

Advocacy organisations 

Networks  

Research organisations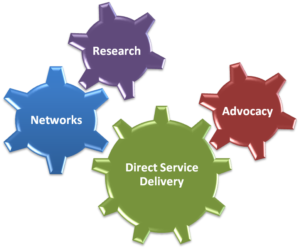 Therefore, EM Solutions assists organisations in defining their operating model, deciding on the best model to achieve their objectives, and implementing recommended changes to increase the effectiveness of aspects of the operating model.   
To download a full brochure on Operating Model Definition & Improvement, please complete the form below and SUBMIT
Many organisations have not strategically structured themselves to operate from the best model for their activities, and have thus ended up with a hybrid model, that is not as effective.  
EM Solutions offers various assessments as described below. Each assessment begins with a review of relevant documentation to understand the organisation and its context. The next step is the completion of an online questionnaire by relevant staff. This takes the place of interviews with each staff member and ensures the process is as inconvenient as possible. Follow up interviews or a general meeting with specific people may be necessary in some circumstances to gain clarity and challenge assumptions. Finally, a report of observations and recommendations is prepared. The assessment can be followed by assistance in developing the strategic plan to implement the agreed recommendations and accompaniment of the implementation process. 
The personalise cost of the assessment is based on the size of the organisation, the complexity of the organisational structure and the specific requirements of the assessments undertaken. 
Possible Operating Model Assessments: 
Operating Model Definition:  

Governance and Strategic Structures  

Positioning  

Financial & Risk Management 

Human Resource Structure 

Programmatic Impact 

Resource mobilisation Strategy