BUSINESS SOLUTIONS
Unleash your confidence and courage so that you can accomplish what you were born to achieve.
If you are an Entrepreneur or Manager of an existing business or a Non-Profit, then Strategic Coaching is essential for both your personal and organisational growth. We have three options for you: Silver, Gold or Platinum Solutions
Through our comprehensive assessment and planning, you will discover your inner courage to truly Understand both yourself and your business. We then proceed through blocks of strategic coaching to Grow your business in identified areas until you develop the confidence to Unleash your full potential. Together with you, we develop and journey along your personalised roadmap loaded with our comprehensive framework of relevant and applicable tools and techniques.
1. Silver Solutions offers an online convenient option to get things going in your business through weekly video based lessons.
2. Gold Solutions is delivered within 100 day 'sprint' cycles days that cover an initial assessment, strategy and implementation followed by a review of progress made.
3. Platinum Solution is more project and outcomes based delivered into focus areas when and where required.
All our coaching sessions are done either online via Zoom or in person at an agreed location. Sessions include assessment, coaching, teaching and general discussion. All tools discussed during sessions are available as downloads or printouts to be completed in your own time.
Silver Solutions Programme

Our Silver Solution is for you if time and budget are tight. This conveneient online course is drip fed to you via email with weekly video lessons and attached worksheets giving you the change to develop your business in your own time.
The Silver Programme includes:
10 Weeks
10 Video lessons and worksheets
Monthly online masterclasses
Membership with our online business community
Gold Coaching Solutions

Our Gold Solution is for you if you need a shorTfocused coaching solution for your business.
The Gold package includes:
Initial Assessment and Roadmap
1 x 100 day sprints
Up to 3 hours of coaching per month
Opportunity to engage with up to 3 critical business concerns
Access to relevant tools
Optional benefits (at additional cost):
Regular master-classes on relevant topics
Attendance at annual Super-Hero events
READ MORE & SIGNUP FOR A DISCOVER SESSION
Platinum Project Solutions

A Platinum Project is a deep dive into one of the 7 business areas covered in the Gold Solution. Based on either a comprehensive assessment or the outcome of a Gold cycle, it may be determined that a more intensive intervention is required. This could include assistance with the implementation of the strategy agreed in a Gold cycle, education and change management, or additional expertise and management consulting support.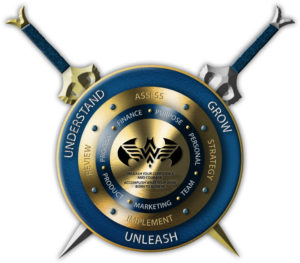 If you still doubt the power of business coaching, read what others have to say:
When it comes to innovation, Bruce is the true Batman for Business. I have had the pleasure of working with Bruce over many years and his dedication, insight and regard for his fellow man is admirable and exemplary. His focus is on the future, and I guess that's a good thing, cause that's where we're all headed. To journey with Bruce is indeed a great honour
In various interactions with Bruce while he was speaking and in consultation, he has guided me through a process of using narrative and storytelling to market my new material. His information has been excellent and his insight has been challenging and very helpful. I am grateful to Bruce for opening a new world to me and setting my marketing and project on an exciting new path.